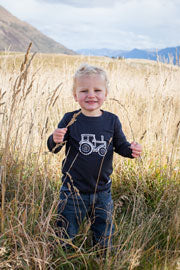 We're turning 5! WIN one of 5 $100!
By Brandland Collaborator
We're 5 this year…WIN 1 of 5 $100 vouchers!
We thought we should mark this milestone with a reward to you, our customers, who have helped us to successfully grow our brand both in New Zealand and internationally. 
Every order placed between now and 30 June, 2012 goes into the draw to win one of 5 $100 Three Bags Full vouchers.  Each purchase puts you in the draw.  For a bonus entry "Like us" on our Facebook  (http://www.facebook.com/pages/Three-Bags-Full-Merino-Childrenswear/116559751706034) page and you'll get an extra chance to win! Start shopping now!
What's Hot This Month...
Recipe of the Month:
Kumara, Spinach and Mushroom Salad
(Serves 2 as a main or 4 as a side)
This simple, but very tasty warm salad is a current favourite in our household - very comforting on those colder nights.  We often serve it with Fish or just on it's own - a good vegetarian meal option.
2 T olive oil
2 medium sized kumara  (cut into small cubes)
4 cloves of garlic (finely chopped)
4 Portobello mushrooms (sliced)
3 handfuls of spinach leaves (stalks removed)
2 zucchinis (cut into cubes)
Handful of Pine nuts lightly roasted
4 T Sundried Tomato Pesto (or can use Roasted Red Pepper Pesto)
Salt & Cracked Black Pepper to taste
Blanch kumara in boiling water and cook until just tender (be careful not to overcook, as it needs to keep it's shape).
Meanwhile, heat Olive Oil in large fry pan on gentle heat.  Add garlic; keep on Med to Low head so as not to burn it. 
Add the sliced mushrooms and zucchini along with a good amount of cracked black pepper.  Stir occasionally until lightly cooked.  Add the blanched kumara, Pine nuts, and Pesto to the fry pan and stir through.  Take off heat and fold through the spinach.  Season and serve as a salad on it's own or as an accompaniment.  Enjoy!